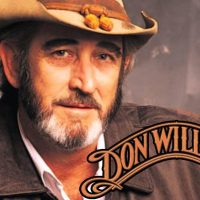 (Nashville, TN) — Country singer Don Williams died at age 78, his publicist said Friday.
The Floydada, Texas-born singer-songwriter reportedly passed away after a short illness.
In 1964, he formed the folk band The Pozo Seco Singers while living in Corpus Christi.
The group later disbanded, and Williams moved to Nashville, where he recorded his chart debut, "The Shelter of Your Eyes," in 1973.
His hit "I wouldn't Want To Live If You Didn't Love Me" topped charts the following year.
From 1974-1991, each Williams single hit the Top-40 on the Billboard Country charts. His chart-topping hits from the 1970s include "Tulsa Time," "She Never Knew Me," and "It Must Be Love."
In 1978, Williams was named Male Vocalist of the Year by the Country Music Association.