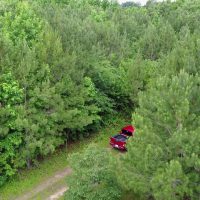 (Halifax County, Va.) – An employee of a lumber company working in Halifax County found human remains in the Crystal Hill community earlier this week.
The Halifax County Sheriff's department says the skeletal remains were human and were found just before noon Tuesday.
A representative from a timber company was estimating the amount of standing timber in the forest when he came upon the skeletal remains and phoned 911.
Due to the condition of the remains, authorities estimate they had been at the site for more than a decade.
The skeleton has been sent to the Medical Examiner's Office in Richmond for identification.