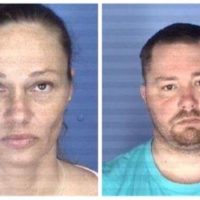 (Nelson County, Va.) — A couple sought in the shooting of a Nelson County woman is in custody in Minnesota.
The two fugitives face charges in Virginia after police say they shot a woman and stole her pickup truck. She remains hospitalized in serious condition.
Sean Castorina and Penny Dawson are also wanted in connection with the disappearance of an elderly Burlington, North Carolina man who remains missing. They will be extradited to Virginia.
Both have prior records. Castorina was convicted of second-degree murder in 2003. WDBJ 7 reports he was charged with killing his former boss and served a ten-year sentence.
Police in Burlington, North Carolina say Castorina was released from prison but violated probation and was sent back to jail. He was released last week on parole.
Dawson also has a non-violent criminal record
In Virginia, the two face charges of malicious wounding, use of a firearm, and grand larceny of a vehicle.