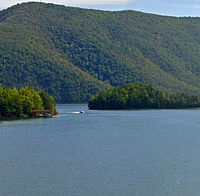 (Franklin County, Va.) – Virginia Conservation Police plan to file charges against the operator of a jet ski following a weekend accident that injured two children, one critically.
Authorities plan to charge Donald Mundy with reckless operation of a vehicle.
Three children were on a tube being pulled by Mundy when he hit a dock Saturday afternoon. A 15-year-old and a seven-year-old were both injured. The teen was airlifted to a Roanoke hospital in critical condition, while the younger child suffered minor injuries. A third fell off the tube before it struck the boat dock and was not injured.
All three are from North Carolina and were visiting the lake at the time of the accident.