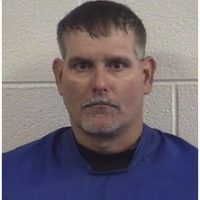 (Wentworth, N.C.) – A Rockingham County Sheriff's deputy found two improvised explosive devices after stopping a golf cart Saturday.
The officer was on patrol in the Stoneville area around 4:00 am when he spotted a golf cart traveling south on Business 220 in the area of Piedmont Stone. The deputy stopped the driver, a 17-year-old juvenile, and arrested his passenger, 43-year-old Terry Michael Martin of Stoneville, N.C.  During the course of his investigation, two improvised explosive devices were located in the golf cart.
The area was secured and nearby homes evacuated as the Greensboro Police Department's Hazardous Devices Team and the Bureau of Alcohol, Tobacco, Firearms and Explosives responded. The devices were safely detonated on the scene.
Authorities also searched Martin's home and found other contraband.
Martin is charged with two counts of felony possession of a weapon of mass destruction. Bond was set at $5,000 and is scheduled to appear in Rockingham County District Court on September 6. The juvenile's name was not released.