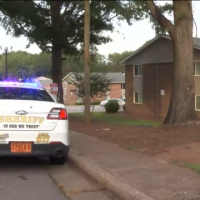 (Eden, North Carolina) — An Eden police officer shot a man who was fleeing the scene of a double stabbing after a confrontation with officers.
Eden police and Rockingham County Sheriff's deputies responded to the Brownstone Commons Apartments in Draper about 2:30 Thursday afternoon, after receiving a report of an assault.
A 44-year-old woman and 7-year-old child had been stabbed at one of the apartments, but had fled in a minivan and were located at Knott and Hairston Streets.
Officers set up a perimeter in the neighborhood and a man matching the assailant's description was spotted near Knott Street and New Street. He was shot during a confrontation with officers.
The suspect was airlifted to Wake Forest Baptist Medical Center in Winston-Salem, while the stabbing victims were treated at a local hospital. All three survived but their names and conditions were unavailable.
The shooting probe has been turned over to the State Bureau of Investigation. Eden Police are investigating the stabbings.