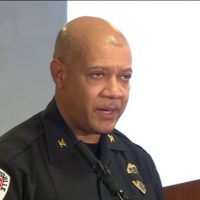 (Charlottesville, Va.) –Charlottesville's police chief is defending his department's response to a weekend of violence that left three people dead and 19 injured.
Law enforcement experts have said his officers did not do enough to prevent the bloodshed.
Police Chief Al Thomas, Jr. said Monday that he regretted the loss of life, calling the weekend events "tragic."
Thomas said organizers of the Unite the Right rally did not follow instructions or a plan that involved controlling the demonstrators' access to Emancipation Park through a rear entrance.
Police were overrun when protesters started coming in from all directions Saturday morning, and his officers changed from street uniforms into riot gear.
Protesters and counter-protesters battled in the streets before Charlottesville authorities and Virginia State Police were able to disperse the crowd.