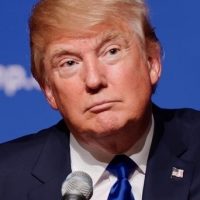 (Washington, D.C.) — President Donald Trump is blaming "many sides" for the violent clashes between protesters and white supremacists in Charlottesville.
Trump also contends that the "hatred and bigotry" broadcast across the country had taken root long before his political ascendancy. Trump's comments are drawing criticism from Republicans and Democrats who say he should be denouncing hate groups by name.
Charlottesville Mayor Michael Signer, a Democrat, says that he blames Trump for inflaming racial prejudices with his campaign last year. Sen. Cory Gardner, a Colorado Republican, says that the president "must call evil by its name."
A neo-Nazi website is praising the president for not condemning white nationalist groups for the demonstration that turned violent. The Daily Stormer says that Trump's comments are "good" and amount to "no condemnation at all."
Meanwhile, three more men have been arrested in connection to the violent clashes between white supremacists and counter-protesters in Charlottesville. The Virginia State Police announced late Saturday that Troy Dunigan, a 21-year-old from Chattanooga, Tennessee, was charged with disorderly conduct; Jacob L. Smith, a 21-year-old from Louisa, Virginia, was charged with assault and battery; and James M. O'Brien, 44, of Gainesville, Florida, was charged with carrying a concealed handgun.