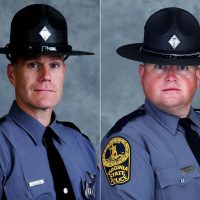 (Charlotesville, Va.) — Two Virginia State Police pilots were killed in a helicopter crash while keeping tabs on the violent clashes in Virginia on Saturday.
The helicopter was hovering near the white nationalist rally when it crashed into a wooded area on Old Farm Road around 5 p.m., just outside the city of Charlottesville, police said.
Virginia State Police confirmed that pilots Lt. H. Jay Cullen, 48, of Midlothian, and Berke M.M. Bates, 40, of Quinton, died in the wreck.
Gov. Terry McAuliffe said he had known both pilots since 2014.