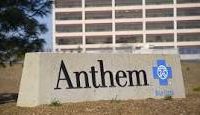 (Richmond, Va.) — Anthem – Virginia's largest health insurer — announced Friday it will pull out of the state's "volatile" individual Obamacare market next year.
Anthem said planning and pricing have become increasingly difficult because of a shrinking market, as well as changes and uncertainty from the federal government.
That includes President Donald Trump's indecision on whether to continue paying cost-sharing subsidies.
Insurance companies are also wondering whether they will have to pay a tax. The status is unclear as the president continues to press Congress to repeal and replace the Affordable Care Act.
Amid this uncertainty, Anthem said it will only offer off-exchange plans in two counties and one city in Virginia next year. The insurer's decision will not affect people with employer-based insurance, those who purchased insurance before March of 2010 or those enrolled in Medicaid or Medicare plans.
The company sells Blue Cross Blue Shield plans in 14 states.