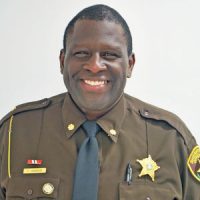 (Yanceyville, N.C.) – There's a new sheriff in town in Yanceyville.
Tony Durden was sworn-in as the new sheriff of Caswell County Wednesday.
Durden took the oath of office and then thanked a packed Caswell County courtroom saying: "The bar has been set high. Let's reach high."
Durden has risen through the ranks at the department and started working for Caswell County Sheriff's Office in 1997. He is a graduate of Piedmont Community College with an Associate's Degree in Criminal Justice and received his Advanced Law Enforcement Certificate in April 2014.
The Caswell County Board of Commissioners voted to appoint Durden after former Sheriff Michael Welch informed them in late June that he intended to retire August 1 to spend more time with his family.