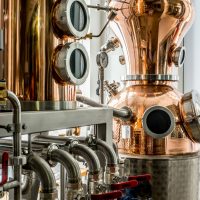 (Danville, Va.) — Danville City Council is considering a zoning change that will clear the way for a distillery to locate in the River District.
The Danville Planning Commission has given its blessing to the project, which isn't allowed under current zoning restrictions. Danville City Council will consider changing that at Thursday night's meeting. Council has made similar changes for downtown breweries.
The planning commission recommended that breweries be allowed through special-use permits.
The city manager has said the project would add to the expanding list of businesses in the River District.
Dry Fork Fruit Distillery, located in Meadows of Dan, has submitted an application requesting the code change.