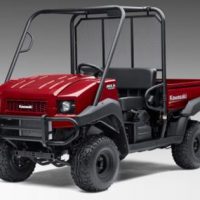 (Pelham, N.C.) – Rockingham County investigators have recovered a burgundy, 2017 Kawasaki Mule Utility Vehicle stolen from a Pelham farm earlier this month, but no arrests have been made in an entry in which thousands of dollars worth of farm equipment was stolen.
On Monday, July 17, officers responded to a breaking and entering and larceny at Oakhaven Farms, located at 1434 Dibrell Road.
Sometime between 6:30 p.m. Sunday, July 16 and 7 a.m. Monday, July 17, someone entered an unsecured building and stole the sport utility vehicle, along with an agri-sprayer, a Stihl chainsaw, a Chicago grinder, an air compressor, a Craftsman toolbox containing tools, a cable sawzall, and a weed eater.
Anyone with information on the thefts is asked to contact the Rockingham County Sheriff's Department.