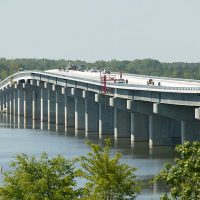 (Clarksville, Va.) – A North Carolina man and his stepdaughter were airlifted to Duke Medical Center Monday afternoon after both were injured when their jet ski struck a cement pylon on Buggs Island Lake.
The jet ski accident happened around noon at the Business 58 bridge in downtown Clarksville near the town dock. According to the South Boston News and Record, the man was driving the personal watercraft with his 13-year old stepdaughter on the back when he crashed into a pylon under the Clarksville bridge. Both were wearing life jackets but were thrown from the craft.
Family members witnessed the accident and called 911. Their names were not released.
The Virginia Department of Game and Inland Fisheries is investigating the accident.